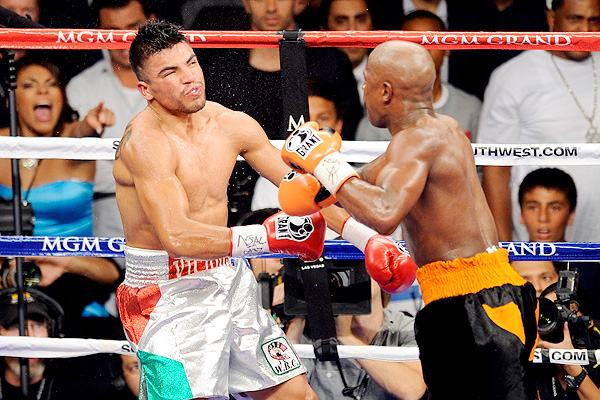 HOT SCALE (1-10): 10
By now, everyone has likely seen the outcome of the Floyd Mayweather/Victor Ortiz fight.  Things were humming along like a typical Mayweather fight – not doing too much but doing just enough to be winning the fight and letting his opponent wear himself out. Then he turns it up a notch in the 4th round, and even Ortiz lands a punch that took Pretty Boy a solid 30 seconds to shake off.  Ok, this is going to be a fight, I think to myself.
And then I see the head butt.
Now, I'm old enough to vividly remember the Mike Tyson/Evander Holyfield fight when Tyson bit the latter's ear off.  This wasn't that bad, but it was still pretty flagrant.  (Ironically, Tyson claimed in the documentary Tyson that he bit Holyfield's ear in retaliation for Holyfield's head butting.)  Sure, Ortiz is 10 years younger than Mayweather, but he's old enough in boxing years to know that head butting has no part in the sport.  It's not even like a low blow, which is still at least a punch.  I saw it, but I couldn't fathom at what point in Ortiz' career he would have ever delivered a "leaping head butt" such that he would resort to such a move in the biggest fight of his life.
I was thinking the referee might disqualify Ortiz since I know that an intentional head butt can be punishable with a DQ, particularly when they cause gashes.  I'm assuming the referee didn't see that Ortiz' head butt drew blood on Mayweather's chin, but in retrospect, the two point deduction for Ortiz was probably appropriate (particularly when Mayweather's only boxing once a year).
So, I'm still pretty hyped up, yelling at the screen that Ortiz is fighting dirty and (wrongly arguing) that the ref should have stopped the fight.  The fighters reconvene, and appear to hug each other, hands down.  Next thing I know, Mayweather clocks him –  then clocks him again!
I *literally* hopped out of my chair at the restaurant when it happened.  I thought for sure Mayweather was about to have his first loss for punching before the round began.  When I realized this KO was going to stand, I yelled to the waiter "Hand down, man down!" which he got a big kick out of, and he agreed.  (I later learned NBA commentator Mark Jackson also tweeted his now famous saying, which I must say makes WAY more sense in boxing.)
I then got into a debate with my other half over whether it was a dirty punch.  His main premise was that you don't hug a man then punch him.  I can't say I've ever really been in hand-to-hand combat before (besides in kickboxing class), but at the time, I thought it was hard to cry foul after Ortiz had just done the fouling.  I still thought it might have been a sucker punch, but I was willing to give it a pass.  It's boxing, after all.  How civil can it be?
We left the restaurant before I could catch Mayweather's post-bout interview with Larry Merchant, but it was definitely worth the wait.  I won't post it here because the language is a little strong, but it's not hard to find.  This picture says it all:
I'm not usually for ignorant behavior, but that might be the most entertaining interview exchange I have ever seen, hands down (no pun intended).  Merchant was brave to put his hand on Mayweather's shoulder and say what he did, and the fact that Mayweather didn't clock him, too, only proves that he may be a lot of things but a dummy is not one of them.  I'm guessing that their history of similar-but not-as-amusing exchanges might have something to do with Merchant's free-talking ways:
Ah, Mayweather.  So entertaining yet so talented.
But it wasn't until I watched the replay of the KO a few times that I realized what I had actually seen.  From a different angle, Mayweather had his hands up the whole time, and almost pushed Ortiz off, yet Ortiz somehow was still trying to make nice for the headbutt and decided not to start fighting.  The fight had started, and Mayweather did what he was supposed to do –  fight.  He didn't have an obligation to keep letting Ortiz hug on him when there were only about 10 seconds left in the round.  10 seconds to do some damage.  That's the part I haven't seen discussed, but that's why Mayweather came back so ready to fight.
The fact that Ortiz didn't read Mayweather's body language is what got him knocked out. Why the referee wasn't looking and Ortiz wasn't keeping his eyes on Mayweather, even though the clock had started, we might never know.
People have asked why Ortiz wasn't that upset.  My best guesses are: 1) he just got out of the biggest payday of his life relatively unscathed (well, in the short term, anyway) and/or 2) he felt dumb for trying to make nice and not being on guard like he had been taught his whole life.  
Or maybe it was a little bit of both.  I heard that in the 24/7 on HBO leading up to the fight that his corner told him to keep his hands up at all times, so perhaps he has a history of doing this…but it could just be a general comment that is now being blown up, for obvious reasons.
Either way, that will go down as one of the most bizarre sporting moments I have ever seen.  But bizarre sells.  They don't call him "Money Mayweather" for nothing.
The floor is now open…what say you?